Betfred Lotto Online and Mobile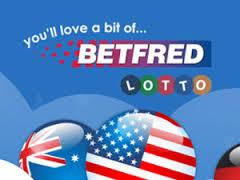 Welcoming players from the online lotto world for years now, Betfred Lotto are now playing for top positions in the mobile lottery sector. Launching a state of the art app where players can bet on 12 worldwide lotteries from the simplicity of their mobile device.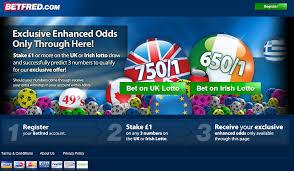 Go to Betfred Lotto Now!
Betfred Lotto have presented a real clean cut user friendly app that has taken off with mobile lottery players. Save your favourites or choose lucky dips to randomly generate your number for any lotto draw of your choice. Share your lucky wins with your friends with Betfred lottos social media network.
See Our Betfred Lotto Results Page here!
Online Lottery Draws with Betfred Lotto Mobile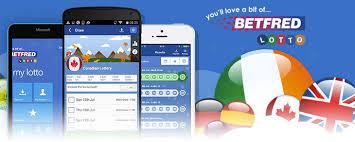 In a standard week, Betfred Lotto offers the largest range of mobile lotto draws with at least two taking place everyday around European countries creating endless winning potential. They have a great comprehensive and detailed online lottery schedule allowing you ease and precision throughout your experience.
Betfred Lotto's schedule include all of the best online lotteries such as; Irish Lottery, Euromillions, World Millions, Mega Millions and many more! You can get detailed info on all draw dates and times for whichever lottery you might have your eye on, and therefore get those critical mobile lotto bets in on time and never miss a draw!
How To Play and Win at Betfred Lotto
Betfred Lotto's popularity comes from it's different kind of betting process. Playing the lotto on Betfred is not the same as buying a ticket for the official draw, but it gives Betfred customers the exact same opportunity, only with fixed odds!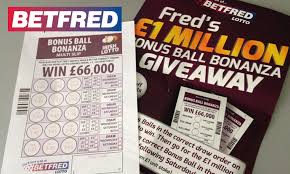 Players of Betfred lotto are simply betting on the results of the official draw. The betting process is super simple and can be done conveniently from your home on your laptop or with the mobile app. All you have to do is pick up to five numbers to be drawn for whichever lotto you choose, and for the correct number of balls guessed, a fixed odds return is paid out!
See Here for Irish Lottery Results Betfred
The odds are so good, 700 to 1 in fact, that there's the potential to win a massive £701 for only a £1 stake – the value is terrific!
Online Lottery Bonuses with Betfred Lotto
All new mobile lottery players at Betfred can get up to £50 worth of free bets. Earn £725 for 3 correct lotto number selections on the UK Lotto. Lotto players can now indulge in daily boosts on Irish Lotto, UK Lotto, 49's and Spanish lottery draws. This allows players at Betfred Lotto to get the chance to have the best odds in the industry.


With more online lottery draws happening than most of their competitors and great welcome bonuses, you'll be in good hands with these guys.Betfred and their online lotto product has increased its player base significantly since they launched their app. With over 6,000 active players every single week, there's good reason why everyone is heading there.
Players needs come first at Betfred Lotto, and with more and more players every week, Betfred offer plenty of lotto bonuses to keep everyone happy, as they are a great way to kickstart peoples winning streaks!
Some of the best promotions available on the Betfred lotto site have great value and act as a massive player incentive, such as the £25 free bet for new players, and the Lotto Insurance bonus that gives players a returned stake if they match 3 out of 4 balls!
See Mega Casino Games Sites Here!